A620 Anchor Drilling Rig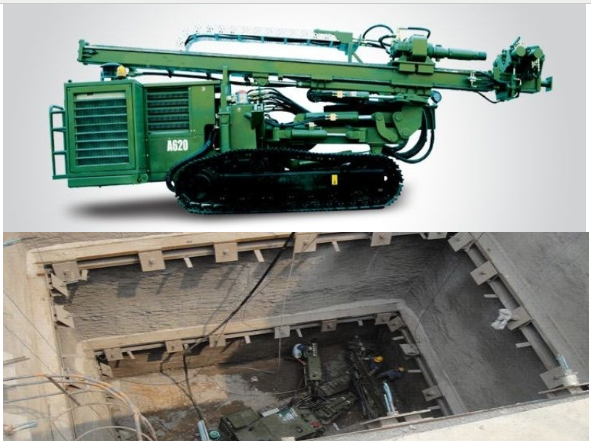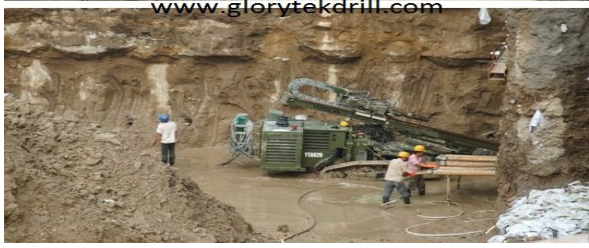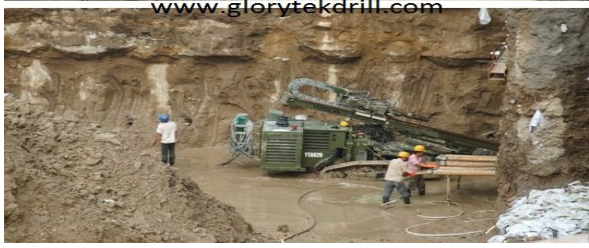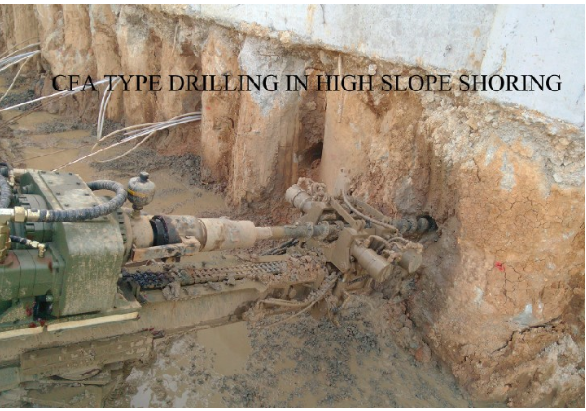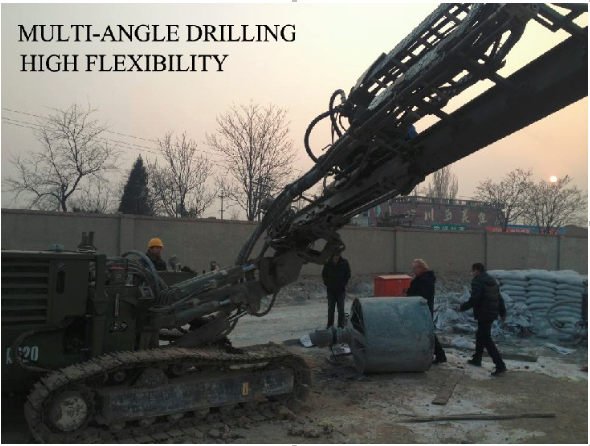 A620 Anchor Drilling rig is stone anchoring machinery, which is one kinds of piling machines. It consists of crawler track, variable device, guide track, support, rotation head and Kelly bar, which is capable of drilling in all directions. It adopts the technology of Germany Huth, and has technology advantage in structure, hydraulic principle, rotation head combination, working technique. It has the following characteristics, such as high speed reserve, strong power and flexible operation, etc. it has superiorities in the strength of slope, improvement of support and enhancement of working efficiency. It's widely used in the road base, high building and high slope of deep foundation pit, anchoring of sliding in the geological disaster, strength of the construction holes in the tunnel. It can be used in the clay, stone and sand formation through the change of rotation head combination and hydraulic hammer or air hammer. The anchoring depth is within 50 meters and the maximum drilling depth can be 200 meters.
Applied uses:
(1)High slope support to avoid the building displacement
(2)High slope support of railway and road
(3)Slope strength of deep foundation pit and construction hole of building base.
(4)Anchoring of sliding of the geological catastrophe and dangerous stone.
(5)Explosive holes of road and railway tunnel.
(6)Explosive holes of mine exploration.
(7)explosion holes of water dam and drainage holes
(8)Support for the holes in the tunnel
Technical parameter
A620 Anchor drilling rig parameters

S/N

Item

Specs

Remarks

1

Operation weight kg

13000

Include Kelly bar

2

Engine kW

118

WEICHAI DEUTZ

3

Traction kN

132

4

Walking speed km/h

4.5

5

Climbing angle

70%

30°

6

Length mm

6800

Transportation

7

Height mm

2640

Transportation

8

Width mm

2300

9

Track width mm

450

10

Wheelbase mm

2195

11

Rotation head journey mm

4020

12

Rotation head speed m/min

10

13

Rotation head quick speed m/min

60

14

Max.press kN

35

15

Max.pull kN

70

16

System pressure bar

250

17

Rotation Head 1 gear torque Nm

6800

18

Rotation Head 1 gear speed r/min

102

19

Rotation Head 2 gear torque Nm

13600

20

Rotation Head 2 gear speed r/min

51

21

Impact frequency Min-1

HBS45:2500/1800/1200

HBS50:2400/1900/1200

22

Impact energy Nm

HBS45:340/400/590

HBS50:420/535/835

23

Impactor working pressure bar

180

24

Impactor working flow rate L/min

90

25

Standard Kelly bar mm

φ133

26

Max.drilling depth m

200

27

Hole diameter φmm

100-400