GL120 Full Pneumatic Drilling Rig
GL120 Full Pneumatic Drilling Rig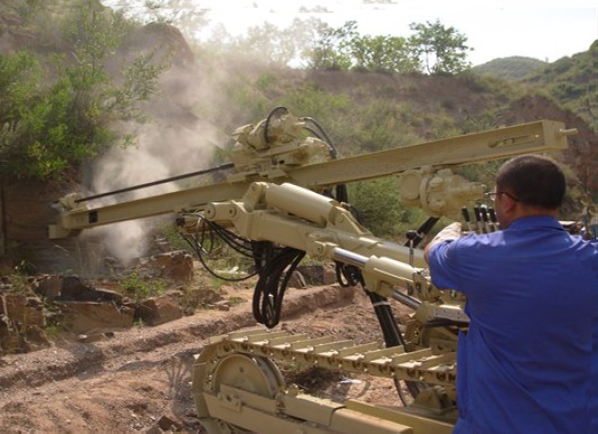 The above picture is the rig with full pneumatic configurations, and it can realize small diameter hole drilling under low air pressure. It can be used for presplitting blast, slope anchor, road construction, etc.
The above picture is with down the hole hammer and bits configurations for blasting hole in surface mine, water electric building, road construction and stone project, etc.
1. It is a full motorized rig with strong grade ability, convenient to move and turn around, and can be operated in short distance temporary traction, with theses advantages, the rig can adapt to complicated working conditions.
2. The maintenance workload for the rig is small and needs little time to do the auxiliary work. The pneumatic spare parts are with high temperature resistance, low failure rate and easy to repair and maintain.
3. The spare parts of GL120 rig is widely used and easy to get all over the world.
4. The GL120 rig can be equipped with three kinds of rotation motor device (vane pneumatic motor, gear pneumatic motor, 5.5kw or 7.5kw electric motor rotation), we can customize according to customer's need. With different configurations, the rig can realize different working ways as a pneumatic rock drilling rig or a blasthole drilling rig. Details are as below.
Main Technical Parameters as Pneumatic Rock Drill Rig

Drilling Diameter: 48~65mm (match R32 drill rod)
55~89mm (match T45 drill rod)
64~102mm (match T51 drill rod)
Drilling Depth: 3~12m
Air Consumption: 12~22 m3/min
Working Pressure: 0.5~0.7 Mpa
Main Technical Parameters as Down-the-hole Drilling Rig

Hole Diameter

105-140mm

Boom Pitch Angle

up 55°, down 15°

Hole Depth

vertical 30m, downward 25m

Boom Swing Angle

left 45°, right 45°

Working Pressure

1.05—2.46 Mpa

Frame Pitch Angle

up 45°, down 60°

Air Consumption

17—21 m3/ min

Frame Swing Angle

left 50°, right 35°

Rotary Speed

0—72 r/min

Length of Drill Pipe

3m

Traveling Speed

3 Km/h

Diameter of Drill Pipe

76mm

Rotary Torque

2520 N.m

Grade ability

32°

Max Lifting Capacity

≥12000 N

Weight

5300 kg

Overall Dimensions Under

Transportation Status

6900*2260*1800mm

Dusting Method

dry or wet type