GL-II ZF Direct & Reverse Circulation Trailer Mounted Drill Rig
GL-II ZF Direct & Reverse Circulation Trailer Mounted Drill Rig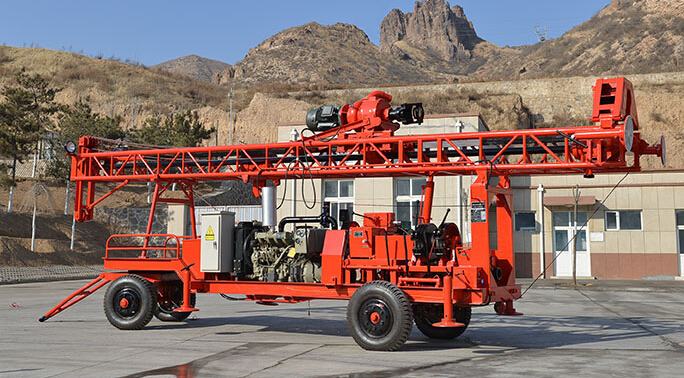 ●Main features and applications:
◆ Drilling wells for urban and rural life
◆Drilling wells for agricultural irrigation and industries
◆Drilling construction engineering holes, piling
◆ Drilling geothermal pump wells
◆ Exploration drilling and geological survey
● This type of drill rig is direct and reverse circulation drilling rig.It can move place to place by mounting a trailer or truck chassis, which makes more convenient for construction work. Equipped with hydraulic up-down mast, making it easier for mast up and down.
● Diesel engine is standard configuration for this drill rig. It can be also driven with three-phase AC generator as for clients' requirement. It can be driven not only through diesel engine, but also by external electric power,which fully achieve " diesel engine and electric motor dual use" dual power drilling work.
● We have patent for our drill head,independent design and manufacture, enjoy the intellectual property rights. The main components such as hoist, gear box, tower and chassis are independent R & D and production of our factory. This model is a mature product of our factory for many years of painstaking development, stable and reliable performance, praised by customers at home and abroad.
● This model can be used for mud drilling and air drilling method,which is suitable for clay layer,sand and rock drilling.
● Big torque, large lifting force, strong power,easy operation,convenient on-loading drill pipe, high efficiency,it is the best choice for users.

Main specification
Hole Diameter:( mm)

90-1200

Hole Depth:(m)

300

Run of Rod(m)

3-6

Drill Rod Diameter(mm)

ф73,ф89,ф95,ф133

Drill Technology

Mud direct &reverse circulation,Air reverse circulation

Down the Hole Hammers

Middle-high-pressure air

Drill Head Inside Diameter(mm)

ф60,ф80, ф120

Drill head lifting speed (m/s)

0.37, 0.16

Drill head lifting force(t)

18

Drill head spin speed(r/min)

A(Forward:14-23-52-84,Reverse:8-13-29-47)

 

B(Forward:32-52-116-188,Reverse:18-29-65-106)

Main hoist lifting force(t)

3

Pressure capacity(t)

2

Dimensions(mm)

Working conditions: 6900*2100*9050

Transport status:9300*2100*3160

Chassis support form

Mechanical spiral

Mast up-down

Hydraulic Unit

Rig mass(kg)

4500

Chassis

Four wheel tractor chassis

The form of power machine

Diesel engine

Power(kW)

49

Mud pump

LBN-20 direct and reverse ciculation mud pump

Flow(m3/h)

80