GL-2000 Reverse Circulation Crawler Drill Rig
GL-2000 Reverse Circulation Crawler Drill Rig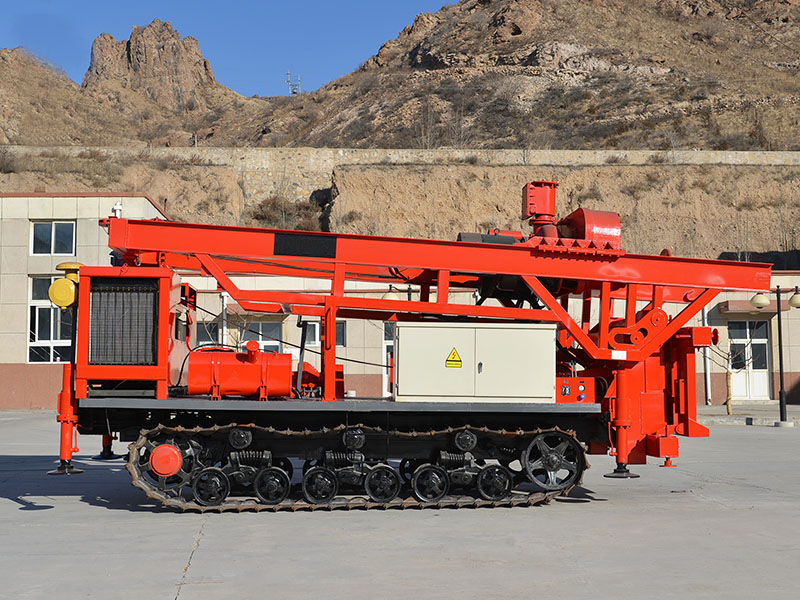 Application:
GL-2000 type reverse circulation drilling rig crawler applies to:Construction such as construction such as high-rise buildings,
bridges, geological mine, harbors, dams and other infrastructure pile drilling.
Advantage:
●This machine has mechanical drive crawler chassis,strong bearing capacity, large traction,low noise, driving stable and reliable safety, widely used, suitable for operation of complex terrain.Transfer case, the main drive system, Double hoisting machine set, mud pump, mast etc. all mounted on crawler chassis.
●This model is a motor-driven mechanical rotary head with pump drilling type reverse circulation drilling rig designed and
manufactured by our company.The characteristic of this model is rotary head type,long feeding process, easier to load and connect drill pipe,no need to use kelly bar.Rotary head with pump top suction reverse circulation mud drilling, it is improved the efficiency of drilling work. Large diameter, high efficiency, strong force,low operating cost, mature technology, easy operation,using and maintenance convenient etc.,especially for soil, cobblestone, soft rock layer of water well or pilling.
There are two kinds of rotating speed for rotary head, that can use for drilling different layer. The drill pipe has new structure,special lifting and loading tool can connecting and unloading drill rod easily and fast. It has crawler chassis and truck mounted chassis, easily to move from place to place while operating. It is convenient for filed working. Hydraulic raising falling mast, convenient to operate,
time-saving and labor-saving.
●The standard configuration is diesel generator, it can also use external power supply to achieve double power drilling operation.
● We have patent for our rotary head,independent design and manufacture, enjoy the intellectual property rights. The main components such as hoist, gear box, tower and chassis are independent R & D and production of our factory. This model is a mature product of our factory for many years of painstaking development, stable and reliable performance, praised by customers at home and abroad.
● Big torque, large lifting force, strong power,easy operation, convenient on loading drill pipe, high efficiency,it is the best choice
for users.
Main Specification

Hole Diameter:( mm

)

450-2200

Hole Depth:(m)

50-300

Drill Rod Length (m)

2

Drill Rod Diameter(mm)

219

Drilling Technology

Direct & Reverse Circulation

Mast Height(m)

7.1

Drill Head Lifting Spped(m/s)

0.065

Drill Head Spin Speed(R/min)

High Spead 22, Low Speed 11

Two Speed Motor(kW)

11 17

Drill Head Lifting ForcekW)

35.75

Drill Hoist Lifting Speed(m/s)

0.39

Dimensions(mm)

Working Conditions:6550*3300*7200

Transport Status:6550*2300*3050

Supporting Form

Hydraulic Unit

Mast Up-Down

Hydraulic Unit

Rig Mass(Kg)

13000

Chassis

DONG FANG HONG Mechanical Chassis

Power Unit

Electrical Motor

Mud Pump

Rotary Head Upper Suction pump

Power(kW)

30

Flow(m3/h)

400

Lift head(M)

1.5

Generator(kW)

120

Power(kW)

30