YTR230D Rotary Drilling Rig
YTR230D Rotary Drilling Rig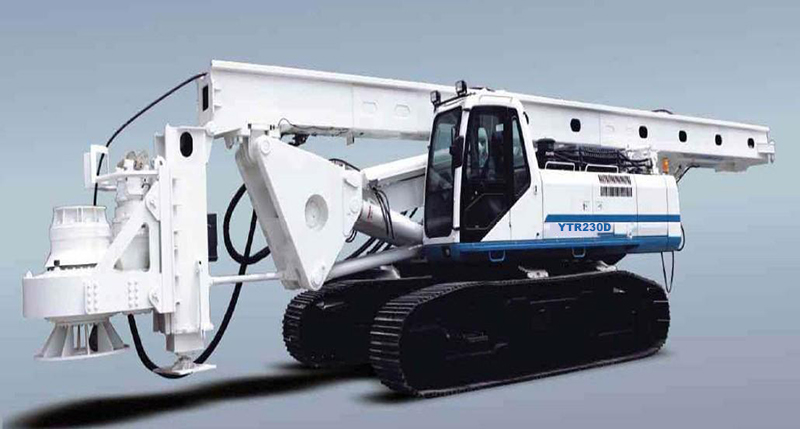 YTR230D is a medium sized auger drill which is introduced by our company.Its configuration and structure form can meet the clay layer, gravel layer, gravel layer and weathered mudstone layer, and it is equipped with a hammer function, which can efficiently drill into weak weathered rock layer.
Rotation of the YTR230D drill isdeveloped by therotary drilling rig chassis, equipped with the German man technology mechanical injection turbocharged engine, the enginepower of large reserves, the hydraulic system with negative flow control, constant power control, ultra vires of electrical power control and load sensing control, load and the hydraulic pump, hydraulic pump and engine, matching, reduce the power loss of the engine, hydraulic system equipment and engine running under the state of high
efficiency, greatly reducing fuel consumption. Compared to the same model to save the 15%-20% fuel consumption.
YTR230D bucket chassis rotary drilling rig equipped with the main pump, the main valve, auxiliary valve, reducer general degree of high degree of general, the supply of spare parts, low prices, short cycle, complete the supply of spare parts, the supply of "rare, expensive, slow" problem.
Main technical parameters of YTR230D

maximum drilling diameter

mm

2000

maximum drilling depth

m

68

Engine

Model

DE12TIA

Manufacturer

Doosan

Equippedwith power

kW

230

Power head

Maximum output torque

kN.m

230

drilling speed

r/min

7~35

pressure cylinder

Maximum pressure

kN

215

Maximum lifting force

kN

230

pressure stroke

mm

5330

The main hoist

elevating Power

kN

240

Maximum lifting speed

m/min

65

wire rope diameter

mm

28

place position

Postposition

chassis

chassis

DX380

track shoe width

mm

800

traction

kN

410

chassis length(tread)

mm

4950

external dimension

working condition device width

mm

4300

working condition device height

mm

22420

transport status equipment length

mm

16070

transport status equipment height

mm

3575

transport status equipment width

mm

3300

drill pipe diameter

mm

440

weight

working condition

t

77

transport condition

t

65